Ridenour Acres Corn Maze and Pumpkin Patch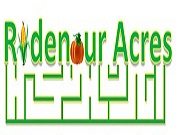 Ridenour Acres offers the best corn maze experience in Northeast Indiana. Our corn maze offers two different levels - beginners or advance. The beginner level takes 10-15 minutes to complete while the advanced level takes 40-50 minutes. You are welcome to try both mazes if you wish.

Are you up for a challenge? The advanced level will test you physically and mentally at every turn but don't worry, six different quiz stations offer hints to freedom. Make sure to work as a team so that you don't spend the entire day lost in the massive 11 acre maze. If for some reason you are completely lost, we offer emergency exits that will take you safely back to the entrance. Also, a free treat is waiting if you visit all six quiz stations. So make sure you bring the family and get lost in this maze!

If you can lift it, you can pick it. Take a stroll through our enormous pumpkin patch in Angola and find the perfect pumpkin for each family member. There are hundreds to choose from, ranging in all shapes and sizes. Because there is so many, the challenge is picking the right one. It is also a great learning experience for the kids that wonder where these pumpkins come from. A great joy for the entire family - no matter the age.
Latest Reviews
There are no reviews for this listing yet!