How To Make A Haunted Maze In Your Very Own Front or Backyard
September 23, 2016 By Kelly T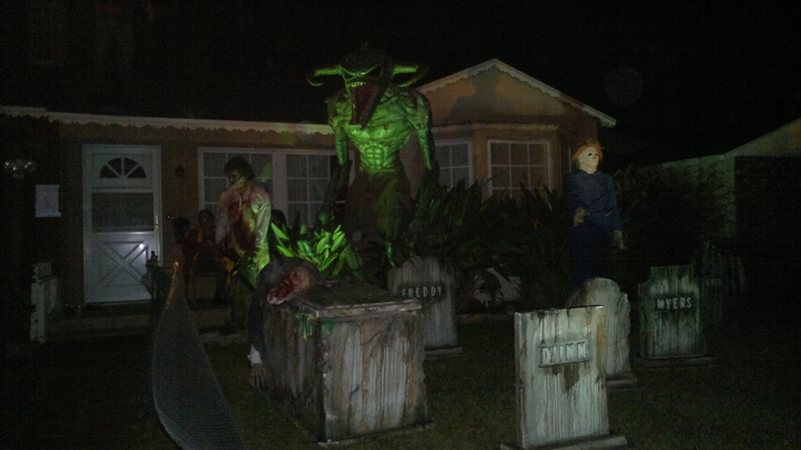 Photo by Al Pavangkanan via Flickr. (CC BY 2.0)
Photo by:
Flickr
This Halloween, make your house the most popular trick or treating spot on the block by creating your very own haunted maze in your front or backyard! Let those creative juices flow by choosing a theme and decorating for your maze, and put your critical thinking skills to the test by planning it out and executing your design with both fun and safety in mind. Check out these ideas for creating your very own haunted maze perfect for handing out delightful frights along with sweet treats this Halloween!
Plan The Path! The very first thing you want to do when planning your haunted maze is to map out the path of the maze. Once you have the path design planned out, you'll have to decide what materials (bales of hay, hanging sheets, cardboard, etc.) you want to use to create the walls of your maze. You may want to consider using glow-in-the-dark paint to write things on your walls so that the people who are walking through have an easier time distinguishing where the walls of the maze are located.
Lead The Way With Lighting! While of course mazes are supposed to be mysterious and spooky, they also have to be safe which means that you cannot have your maze goers walking around in complete darkness, there's has to be some light to lead the way. Strobe lights can be used to light the way and give an unnerving feel to the maze, while red Christmas lights can be used to give the maze an eerie feel. Even Jack o' Lanterns, with no-flame tea lights, can be utilized to light the path and showcase the scary maze decor.
Pick A Theme! Stick some tombstones into the ground and scatter fake skeletons around to create a cemetary theme, add a bubbling cauldron with a fog machine to give your maze a magical, witchy feel, or create a crazed carnival feel with clowns and other circus fare!
Tantalize The Senses! Invoke all of the senses of those going through your haunted maze by adding sounds, smells, and tangible things to touch throughout the maze. Playing creepy music is always a great touch, as are fake spider webs and blowing air! You can even have someone walking the outskirts of the maze to naturally create the sounds of someone stepping on leaves and twigs, ideal for giving maze goers that spine tingling feeling that someone is following them!